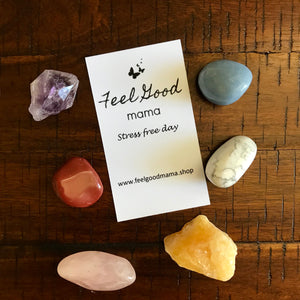 Feel Good Mama
Stress Free Day Crystal Kit
Regular price
$19.00
$0.00
Every mama deserves a stress free day!  This custom crystal kit will help you set your intentions, calm any negative energies and get you to feeling your best.
This set includes:
Red Jasper: A grounding and realigning stone.  Red Jasper provides gentle stimulation.  It makes an excellent worry stone to calm emotions.  This stone returns negativity to its source.
White Howlite: This is a great stone for turbulent emotions & enhances feminine energy.  Allows one the ability to be true to oneself & trust your inner knowing. When placed on the body, this stone will absorb your own anger & any that's directed toward you. Howlite formulates ambitions both spiritually & material. Facilitates calm and reasoned communication.
Blue Angelite: This stone represents peace while helping one to find the truth. Brings unconditional love for oneself and into acceptance with day to day circumstances.  Angelite takes away anxiety and fear, and helps one to stay in the moment.
Purple Amethyst: A natural tranquilizer, blocks geopathic stress & negative environmental energies.  Beneficial to the mind, it calms or stimulates as appropriate, helps one feel more focused in times of stress.  Balances highs and lows.
Pink Rose Quartz: A stone of unconditional love & infinite peace. Draws love and acceptance towards oneself. One of the finest emotional healers. Invokes self trust and self worth. A rescue remedy in times of turbulent emotions. Provides reassurance and calm. Holding rose quartz enhances positive affirmations.
Orange Calcite: Highly cleansing and energizing stone.  Balancing the emotions. It removes fear and overcomes depression, dissolving problems and maximizing potential.  It assists in integrating new insights and creativity into everyday life.
Shipping: Item will be shipped via USPS First Class Mail.  Please allow approximately 1 week for US orders.  Orders often arrive earlier than this time window.  We process orders within 24 - 48 hours and shipping details are available after that time. 
---
More from this collection
Customer Reviews
12/25/2019
Jennifer B.
United States
Pink Crystal Necklace
Love it! Beautiful necklace and stones.